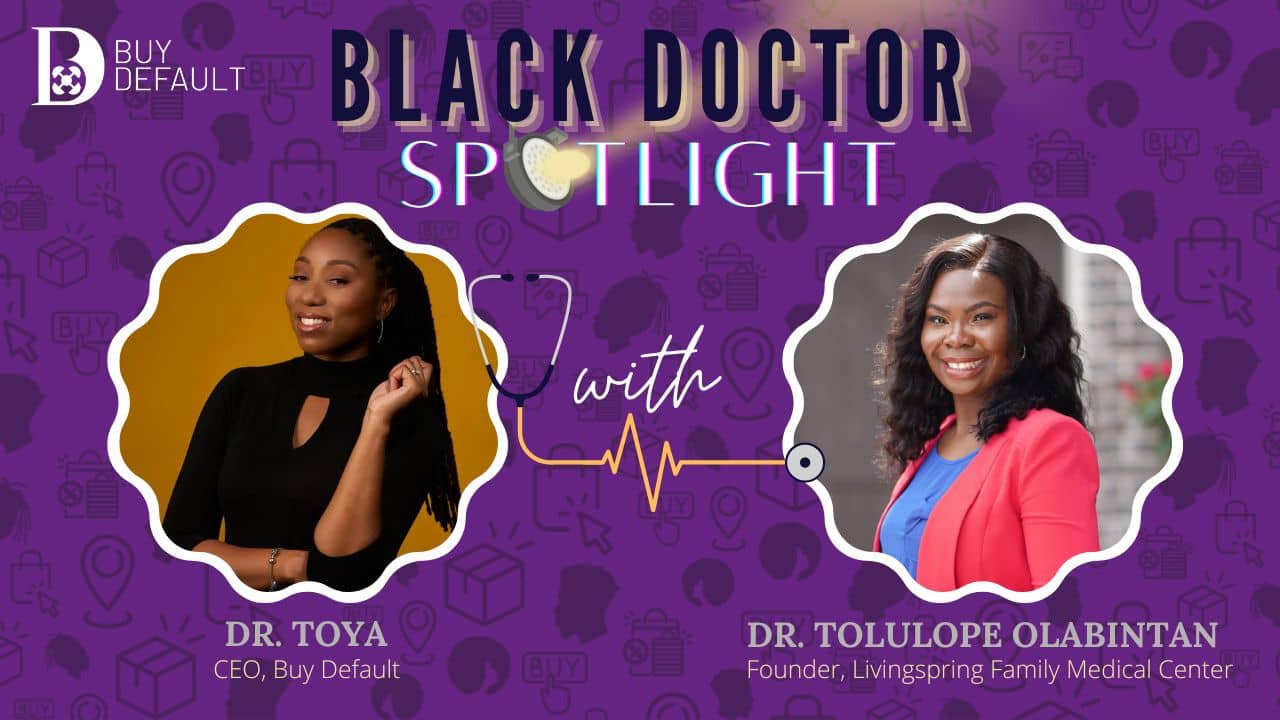 The Buy Default Black Doctor Spotlight highlights Black doctors who care for the Black community.
Dr. Tolulope Olabintan, known as Dr. Tolu or Dr. O by her patients, takes us behind the scenes of her journey on becoming a family medicine practitioner noting how this field impacts generations within families. She also shares the story of how she founded Livingspring Family Medical Center, a place where patient care goes beyond clinical expertise to ensure every patient feels genuinely cared for. 

00:00 – Introduction
00:38 – Tell our viewers more about you.
01:46 – What's your favorite type of food?
02:19 – Why did you want to go to Family Medicine?
04:15 – Are you still practicing OBGYN?
05:01 – Tell us about Livingspring Family Medical Center.
07:14 – What is Pharmacogenetics and Nutrigenomics?
10:15 – What do you want people to know about your practice?
12:05 – How did you get started with your online presence?
14:19 – What does it mean to you to be a Black physician?
15:12 – What do you want to leave with our viewers?
16:07 – Where can our viewers find you?
—————————————————–
Buy Default is a curated directory of Black businesses and Black professionals who cater to the Black community. Our mission is to be a centralized location where you can find everything you need to live your best life! 
With our focus now on Black doctors and healthcare professionals, we want to provide you with ALL of the resources to live your best HEALTHY life!
Visit buydefault.com to discover all of the Black doctors and other professionals who respect and can relate to you!
Everything BLACK, Buy Default!
—————————————————–
FOLLOW US ON SOCIAL MEDIA!
Related posts