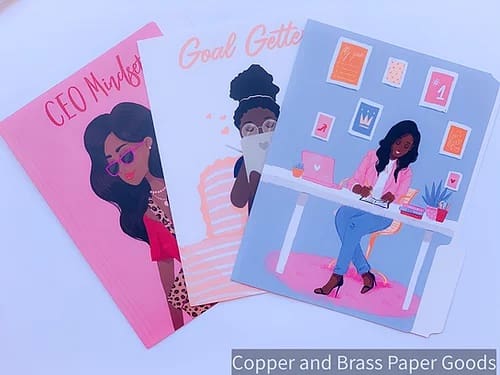 Copper and Brass Paper Goods
About
Copper and Brass Paper Goods officially launched in October 2018. In its beginnings, the brand offered wrapping paper, gift bags, and tags; however, as the vision expanded, so did the line of products.
Now the product line includes greeting cards, notebooks, accessories, and other small paper goods.
The brand shines a light on black culture by promoting positive representation of black people, using gorgeous illustrations which highlights the beauty and power of black people.
Making the community the focal point is our dream, and striving to make a memorable experience in your gift-giving is our goal.
Business Women Folders Set
Black Business Woman Folders include these best selling designs: Girl Boss, Goal Getter and CEO Mindset.
These folders are vibrant, beautiful and printed on thick matte cardstock.
Great for using around your office or while on the go.