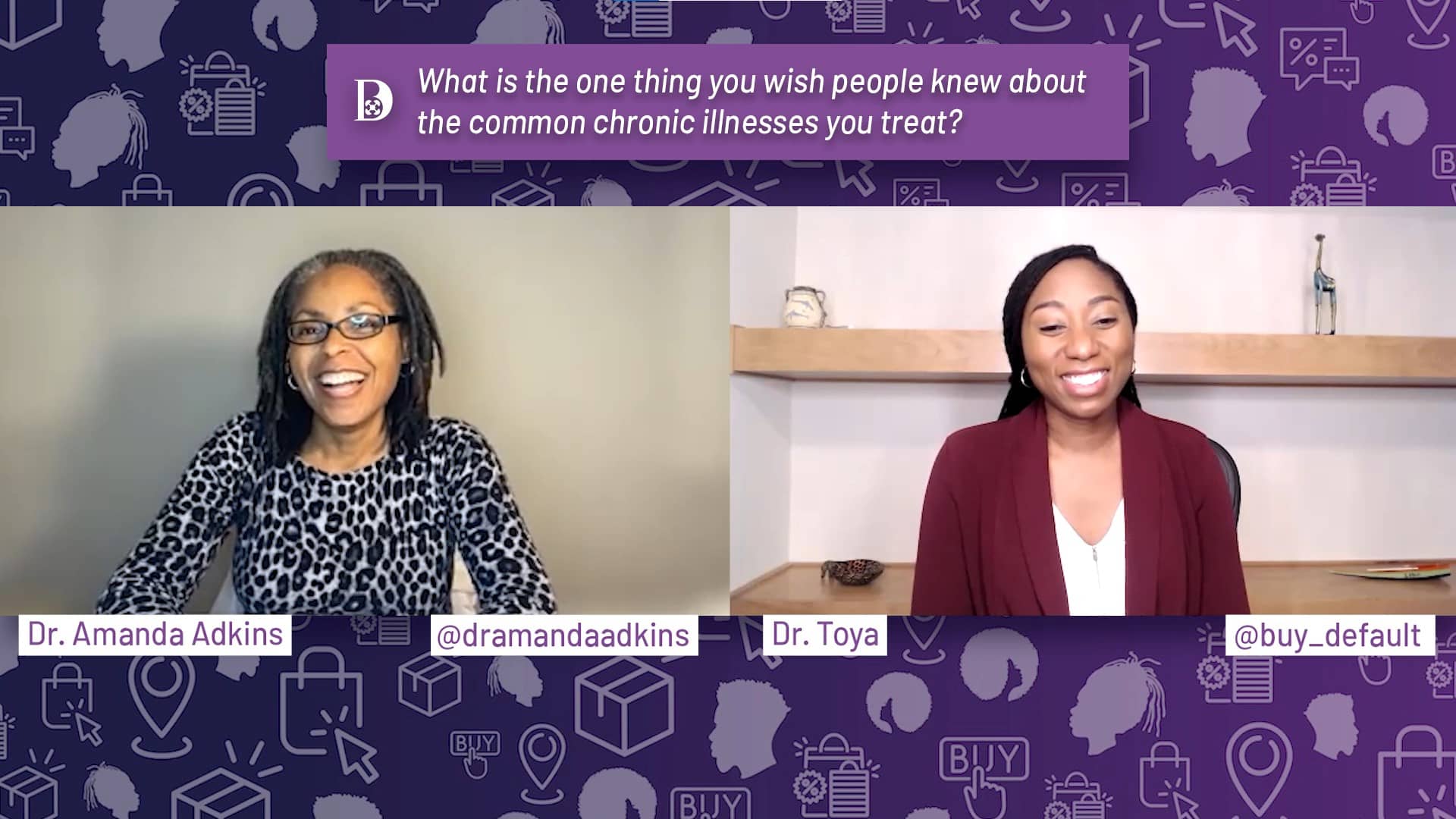 The Buy Default Highlight Reel highlights Black businesses that cater to the Black community and are listed on the Buy Default Black Business Directory.
Buy Default is not only for products and businesses, we have a comprehensive directory of Black doctors. Studies have shown that patients do better when they are taken care of by doctors who look like them, can understand them and can relate to them. Dr. Amanda Adkins is one of those doctors!
An Internal Medicine specialist who focuses on the chronic illnesses that plague the Black community: Diabetes and High Blood Pressure. Dr. Adkins focuses on prevention with exercise and a plant-based diet.
Time Stamps
01:06 – Tell us more about you.
02:25 – Why did you become a doctor?
04:03 – What medical school did you go to?
04:57 – What type of medicine do you practice?
05:24 – What does an Internal Medicine doctor do?
06:59 – What type of medical practice do you have?
07:36 – What is one thing that you wish people knew about the common chronic illnesses that you treat?
08:34 – What are some things people can do to prevent these illnesses?
09:56 – How long have you been a vegetarian?
11:19 – Do you recommend a Plant Based diet? 13:55 – Tell us more about your program
15:05 – When is enrollment open for your program?
16:02 – Is there really variety with a Plant Based diet?
17:22 – What about the cost of this type of diet?
19:03 – What is your favorite thing about practicing medicine?
19:52 – What does it mean to you to be a Black physician?
View their directory listing here.
—————————————————–
Buy Default is a curated directory of Black-owned businesses and Black professionals who cater to the Black community.
Our mission is to be a centralized location where you can find everything you need to live your best life!
We are more than a directory. We are an affirming platform that reflects our true beauty, diversity and joy.
Explore our directory to discover all of the amazing Black owned products and services that were made especially for the Black community. Everything BLACK, Buy Default!
—————————————————–
FOLLOW US ON SOCIAL MEDIA!
Related posts