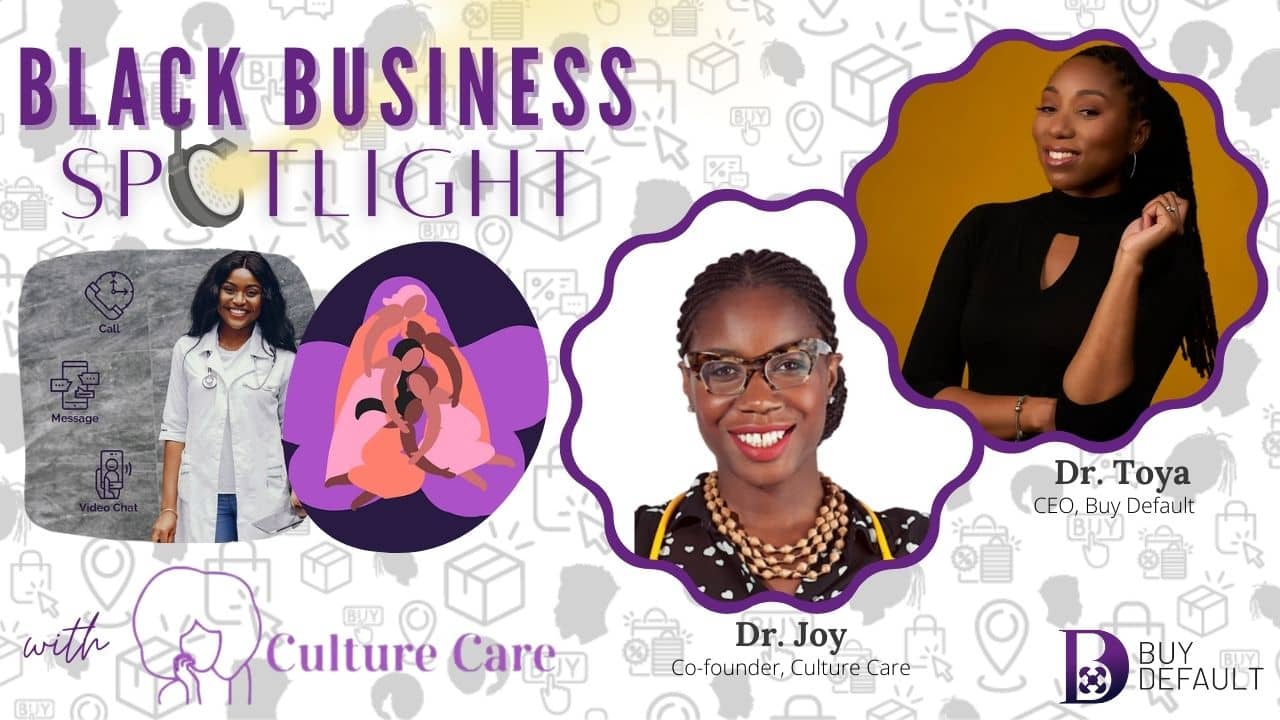 The Buy Default Highlight Reel highlights the members of our Buy Default Business Tribe: Black businesses that are listed on our directory and cater to the Black community.
Culture Care is a telemedicine startup that is designed to link Black women with Black physicians, as well as other Black providers. Their co-founder Dr. Joy Copper, calls herself the Olivia Pope of OBGYN. She is a FIXER. She started Culture Care to mitigate the health disparities that often beset Black women.
Dr. Joy is a highly educated, excellently trained OBGYN (and also Howard U Alum) who cares. Studies have shown that culturally concordant care, care given by doctors who share the culture of their patients, is better care and Dr. Joy's goal is to share the privilege of better care with Black women everywhere!
00:00 – Introduction
00:59 – Tell us more about you.
02:03 – What is Culture Care?
02:51 – Why did you create Culture Care?
04:19 – What services does Culture Care offer?
06:38 – Who is on the Culture Care team?
10:15 – Why did you become an OBGYN?
13:58 – What is your favorite thing about being a doctor?
16:29 – What does it mean to be a Black OBGYN?
20:37 – Where can our viewers find you?
View their directory listing here
—————————————————–
Buy Default is a curated directory of Black businesses and Black professionals who cater to the Black community.
Our mission is to be a centralized location where you can find everything you need to live your best life!
We are more than a directory. We are an affirming platform that reflects our true beauty, diversity and joy.
Explore our directory to discover all of the amazing products and services that were made especially for the Black community. Everything BLACK, Buy Default!
—————————————————–
FOLLOW US ON SOCIAL MEDIA!
Related posts