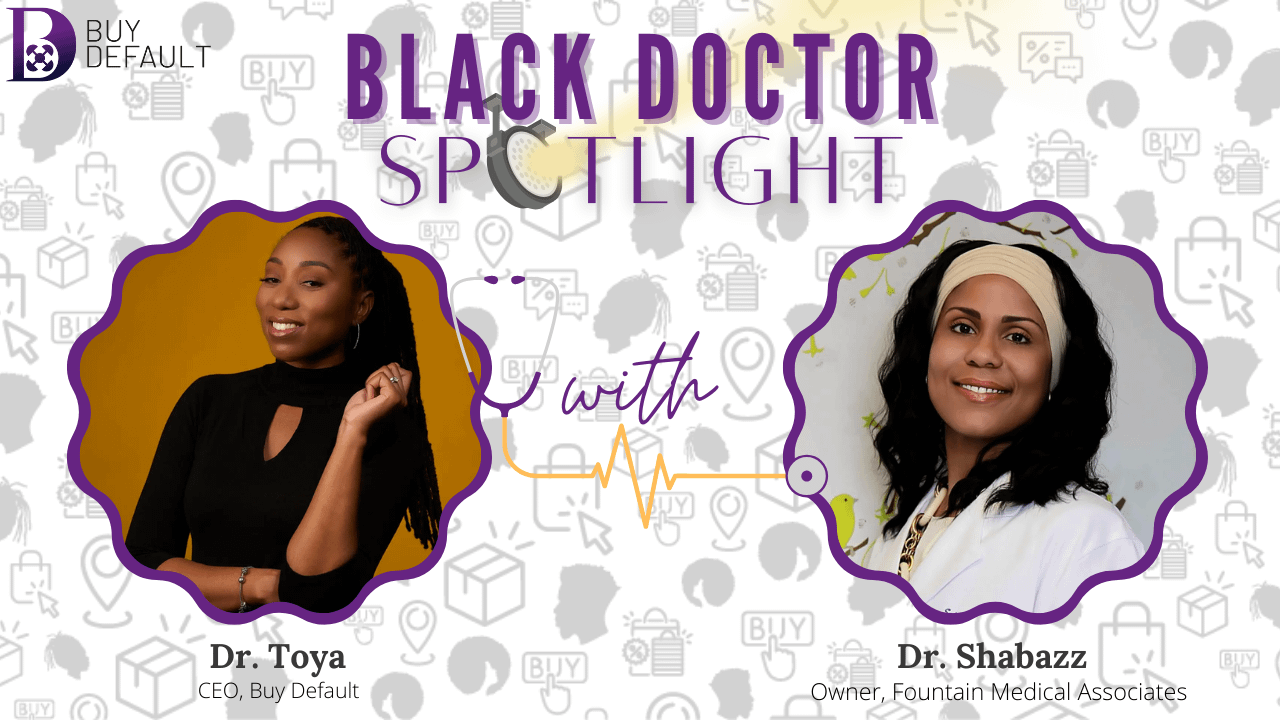 The Buy Default Highlight Reel highlights the members of our Buy Default Business Tribe: Black businesses that are listed on our directory and cater to the Black community.
Dr. Safiyya Shabazz is a Family Medicine doctor practicing in Philadelphia but also offering telehealth primary care services. Dr. Shabazz serves the city she grew up in well but has a passion for serving her religious community, The Nation of Islam. She is an Ivy League educated and trained doctor who is the definition of Black Excellence and runs a family friendly practice that "Loves you back".
00:00 – Introduction
00:55 – Tell our viewers about you.
03:04 – What is a Family Medicine Physician?
06:58 – Why did you go into Family Medicine?
11:23 – Tell us about your practice, Fountain Medical Associates.
14:40 – Why would a patient choose a Direct Primary Care model?
21:29 – Tell us about all the services you provide in your practice.
22:48 – What does it mean to you to be a Black Physician?
25:34 – Where can our viewers find you?
26:22 – What other cities are you licensed in?
View Dr. Shabazz directory listing here
—————————————————–
Buy Default is a curated directory of Black businesses and Black professionals who cater to the Black community.
Our mission is to be a centralized location where you can find everything you need to live your best life!
We are more than a directory. We are an affirming platform that reflects our true beauty, diversity and joy.
Explore our directory to discover all of the amazing products and services that were made especially for the Black community. Everything BLACK, Buy Default!
—————————————————–
FOLLOW US ON SOCIAL MEDIA!
Related posts