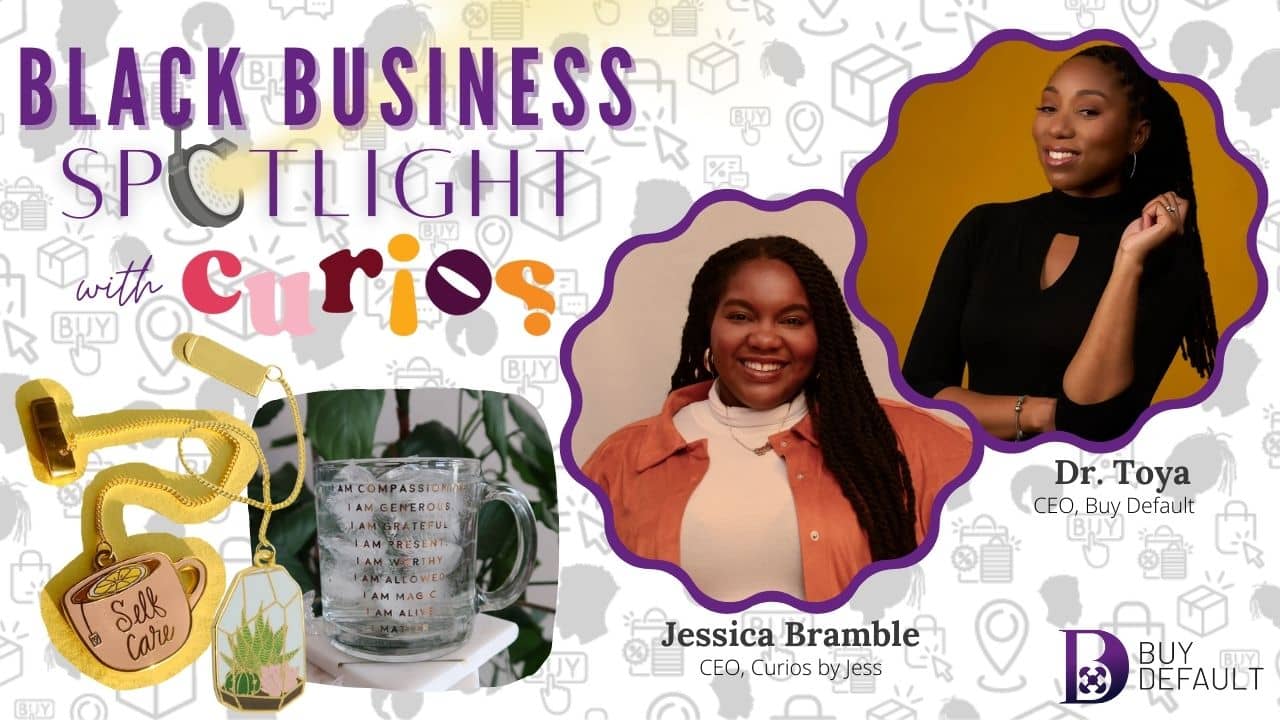 The Buy Default Highlight Reel highlights the members of our Buy Default Business Tribe: Black businesses that are listed on our directory and cater to the Black community.
Curios by Jess is a curated marketplace selling accessories and lifestyle products. It was created by Jessica Bramble who wants you to live your life with uninterrupted curiosity! The products on her marketplace supports small businesses especially Black women owned small businesses. Her goal is to curate products that peak your interest, are practical and fun!
00:00 – Introduction
00:48 – Tell us more about you.
01:08- Why did you start Curios by Jess?
02:11- Tell us about Curios by Jess?
03:47- Tell us about the name "Curios by Jess".
04:58 You took Latin in school?
06:28 – How do you find your products?
07:41 – Do you wholesale these products?
08:22 – How long have you been in business?
08:35 – What have been some of your challenges in business?
10:33 – Tell us about the rebrand.
14:44 – What has been your biggest win so far?
17:35 – What is one thing you wish people knew about starting a small business?
23:02 – What does it mean to you to be a Black business owner?
25:59 – Tell our viewers where they can find you.
27:14 – What is next for Curios by Jess?
View their directory listing here
—————————————————–
Buy Default is a curated directory of Black businesses and Black professionals who cater to the Black community.
Our mission is to be a centralized location where you can find everything you need to live your best life!
We are more than a directory. We are an affirming platform that reflects our true beauty, diversity and joy.
Explore our directory to discover all of the amazing products and services that were made especially for the Black community. Everything BLACK, Buy Default!
—————————————————–
FOLLOW US ON SOCIAL MEDIA!
Related posts