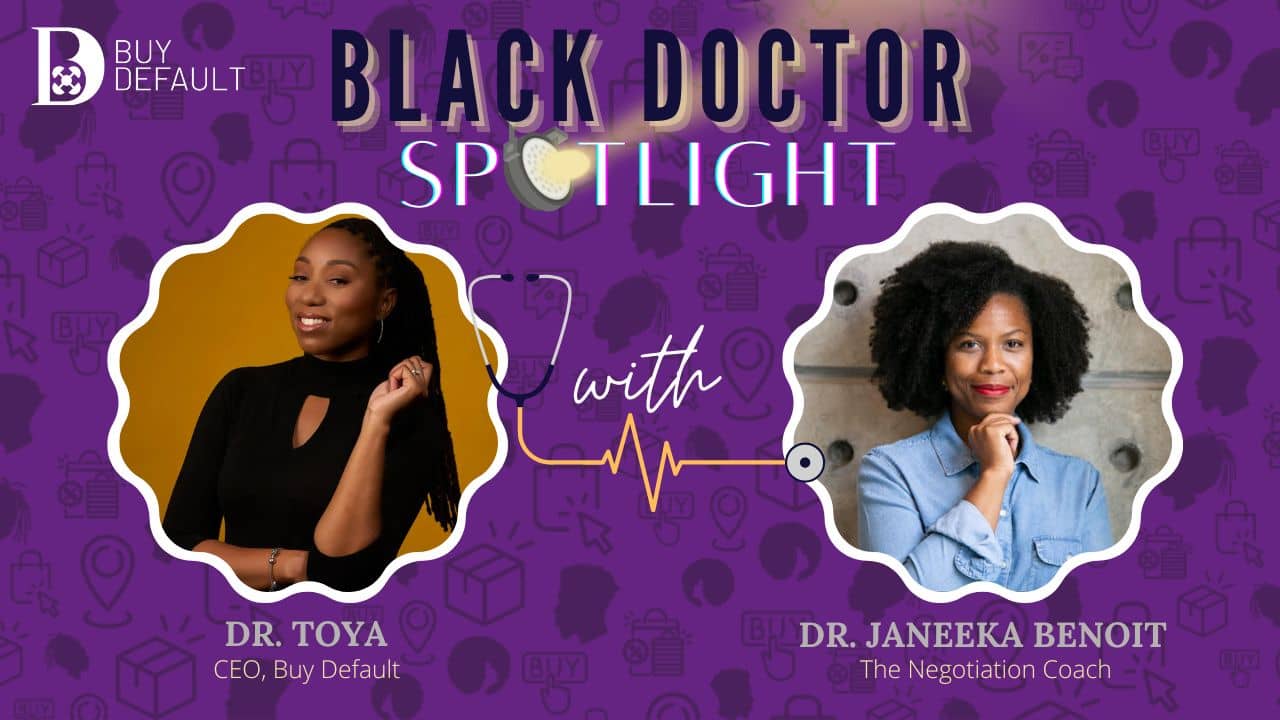 The Buy Default Black Doctor Spotlight highlights Black doctors who care for the Black community.
Discover an empowering journey in this episode with Dr. Janeeka Benoit – a double board certified internal and sports medicine physician who's turned into a passionate negotiation coach. 🎙️ 
Watch to know her insights on helping professional women of color recognize their true worth and attain freedom from their work. Dr. J also shares how her experience as a Black doctor has shaped her unique approach to coaching and uplifting women in their careers.

00:00 – Introduction
00:52 – Tell our viewers  more about you.
01:44 – Tell us your story on becoming a Black physician and negotiation coach.
07:44 – What is a locum tenens physician?
09:23 – Tell us about your program as the negotiation coach for professional women of color.
13:33 – Where have you traveled to this year?
14:28 – What does it mean to you to be a Black physician?
15:30 – What do you want people to know about you or your program?
16:25 – Tell our viewers where they can find you.
View their directory listing here.
—————————————————–
Buy Default is a curated directory of Black businesses and Black professionals who cater to the Black community. Our mission is to be a centralized location where you can find everything you need to live your best life! 
With our focus now on Black doctors and healthcare professionals, we want to provide you with ALL of the resources to live your best HEALTHY life!
Visit buydefault.com to discover all of the Black doctors and other professionals who respect and can relate to you!
Everything BLACK, Buy Default!
—————————————————–
FOLLOW US ON SOCIAL MEDIA!
Related posts