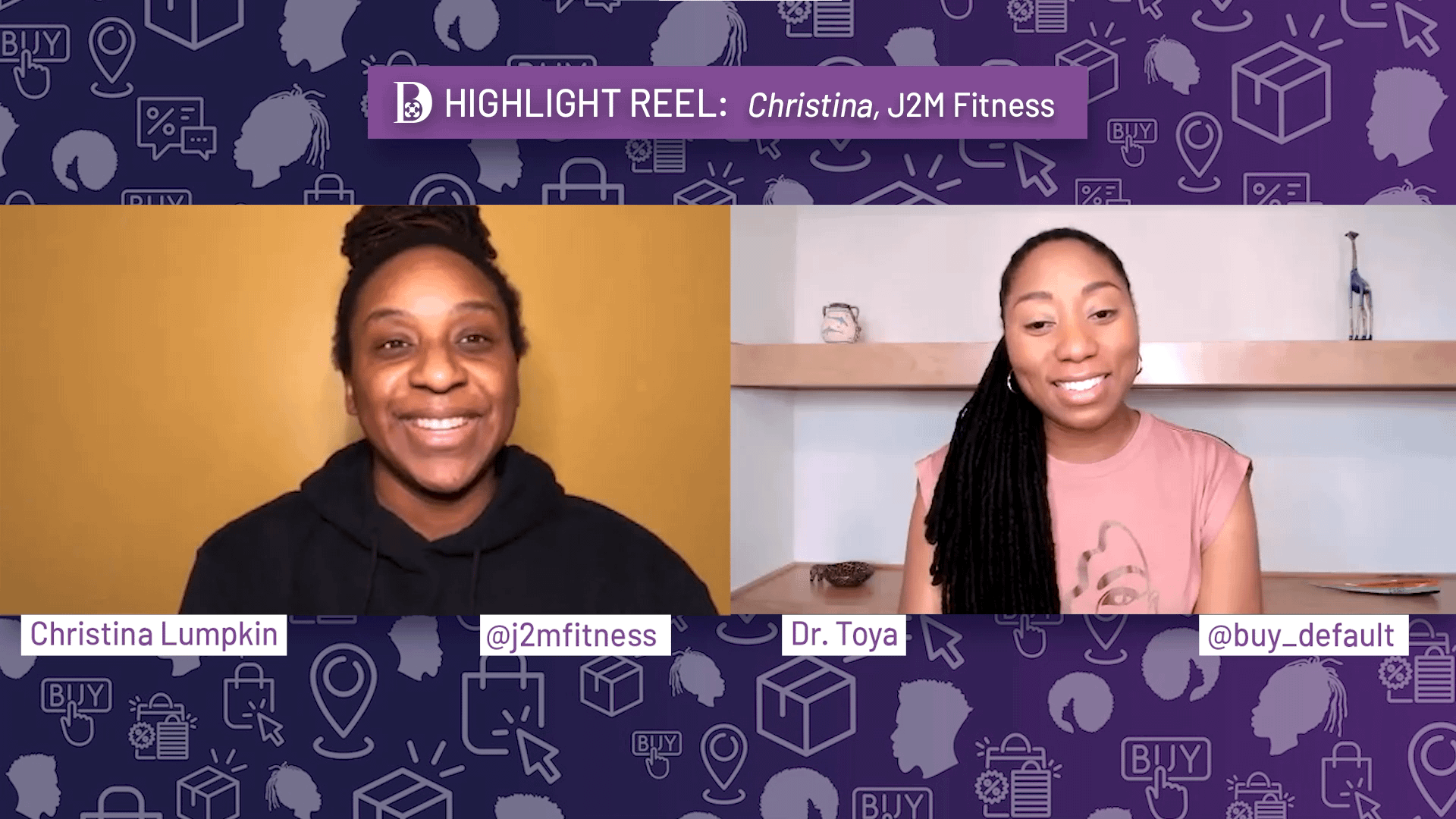 The Buy Default Highlight Reel highlights the members of our Buy Default Business Tribe: Black businesses that are listed on our directory and cater to the Black community.
Christina Lumpkin is a wife, mother and fitness coach, who helps moms put themselves first and transition to safe exercise postpartum, so that they can be their best selves for their families! Watch as she talks about her journey to creating J2M Fitness and drops so much knowledge about postpartum exercise and strengthening the core. Coach Christina can help you heal diastasis recti, back pain and urine leakage with her core rehab. She'll also help you stay centered and not lose yourself in motherhood!
00:00 – Intro
00:44 – Tell us more about you.
01:14 – Tell us about J2M Fitness (Journey to Motherhood Fitness)
02:38 – Why did you create this business?
08:46 – How long is the program?
09:51 – When can moms join your program?
11:29 – Is equipment needed for your program?
13:23 – Please talk more about the importance of strengthening your core postpartum
22:16 – What are the challenges you have faced in business?
24:46 – What has been one of your biggest wins so far?
26:41 – Do you serve clients outside of your local area?
27:40 – What does it mean to you to be a Black business owner?
View their directory listing here
—————————————————–
Buy Default is a curated directory of Black businesses and Black professionals who cater to the Black community.
Our mission is to be a centralized location where you can find everything you need to live your best life!
We are more than a directory. We are an affirming platform that reflects our true beauty, diversity and joy.
Explore our directory to discover all of the amazing products and services that were made especially for the Black community. Everything BLACK, Buy Default!
—————————————————–
FOLLOW US ON SOCIAL MEDIA!
Related posts